Description
Rosemary oil is one of the most popular essential oils for its wide array of health benefits. It has become increasingly important and popular over the years as more of its various health benefits have become understood, including its ability to stimulate hair growth, boost mental activity, relieve respiratory problems and reduce pain.
Rosemary, also known as Rosmarinus Officinalis, is very popular in the Mediterranean region as a culinary herb. Many dishes are cooked with rosemary oil and freshly plucked rosemary leaves. Rosemary essential oil is mostly extracted from the leaves. The rosemary bush belongs to the mint family which includes basil, lavender, myrtle, and sage.
In a 2003 study, researchers found that of 144 test participants who inhaled rosemary oil during an exam displayed significantly higher cognitive function. This is why some researchers are beginning to explore the options for using rosemary oil as an alternative treatment for slowing down the onset of Alzheimer's disease in certain patients because of this apparent connection between boosted neural activity and the essential oil.
Stress Relief: Aside from the relaxing nature of aromatherapy and general inhalatio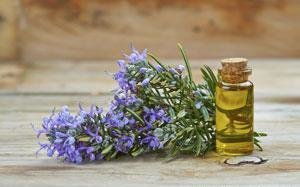 n of rosemary essential oil, it has been proven to actually decrease the level of cortisol in the saliva. Cortisol is one of the main stress hormones that are released during the "flight or fight" response of the body to stress. Excess cortisol in the blood that may occur due to chronic stress can wreak havoc on the body, including its hormonal balance and the efficiency of the metabolism. A study released in 2007 said that inhaling rosemary oil and lavender oil for five minutes significantly reduced the levels of cortisol in the test subject's saliva, which could seriously decrease the dangers inherent from chronic stress.
Immune System Boost: Antioxidants are some of the most valuable defensive weapons we have in our body for fighting off infection and disease, so any food or essential oil that either adds to or stimulates the activity of antioxidants is a huge benefit to overall health. The same study which found that cortisol levels decreased after simultaneous massage and inhalation of rosemary essential oil also found that the scavenging free radical activity in the test subjects' bodies also increased significantly. This means that regular use or inhalation of rosemary essential oil in aromatherapy sessions or in other ways can increase the strength of the immune system and help combat all of the diseases associated with free radicals, including cancer and heart disease.
Pain relief: The ability of rosemary essential oil to relieve pain has resulted in its extensive use in treating headaches, muscle pains, rheumatism and even arthritis. Massaging the affected area that is in pain with rosemary essential oil can give quickly relieve the pain. Vapor baths with rosemary oil are also found to be effective in the treatment of rheumatism. It has certain anti-inflammatory qualities as well, which makes it very good for relieving the pain from sprains and joint aches. Furthermore, it is known to stimulate blood circulation, which can relieve pain and also aid in coagulation of wounds for faster healing.
Aroma: Rosemary has a mesmerizing aroma, which makes rosemary essential oil an excellent inhalant. The oil is used in room fresheners, cosmetics, beauty aids, food, bath oil, candles and perfumes because of its unique and intoxicating aroma. When the oil is inhaled, it can boost mental energy and is also known to clear the respiratory tract. Many people spray a mixture of rosemary essential oil and water to remove bad odors from room and objects.
Respiratory problems: The benefits of rosemary essential oil in treating respiratory problems are well-researched and supported. The scent of the oil has been shown to give relief from throat congestion, and it is also used in the treatment of respiratory allergies, colds, sore throats and the flu. Since rosemary oil also has antiseptic qualities, it is also effective for respiratory infections. The oil is antispasmodic and is therefore used in some treatment programs for bronchial asthma.
Blends: Rosemary essential oil blends well with Basil, Frankincense, Lavender, Peppermint, and Eucalyptus essential oils. 
In addition to rosemary essential oil, also consider trying Eucalyptus and Bergamot.
Warning
Essential oils should never be ingested, only topically applied or inhaled through means of aromatherapy or similar activities. Ingestion can cause serious health complications, characterized by blurred vision, difficult breathing, burning eyes, vomiting, and diarrhea.
The above description exists for the sole purpose of education and Self-Awareness and should in no way, explicitly or implicitly, be taken as an endorsement of this or any of the products offered by our partners herein. Statements contained in product explanations have not been evaluated by either the Food and Drug Administration nor the Ministry of Health, Labor and Welfare. The products herein are not intended to treat, cure, mitigate or prevent any disease. Please consult first with your primary health-care consultant or doctor before purchasing any health-care product to determine if the product is appropriate for you.