Description
Organic Tulsi Tea – 25 Bags
100% ORGANIC Original Tulsi Tea – A Delicious blend of Rama, Krishna and Vana Tulsi (Holy Basil) leaves and blossoms. Delicious, fragrant, exquisite —the finest Tulsi leaves and blossoms are expertly blended to create a soothing, uplifting, full-bodied beverage that is fresh and flavorful. Tulsi, 'The Queen of Herbs' encourages tranquility, clarity, robust immunity and stamina. It offers respite from colds and flu, and helps to balance the metabolism. With its rich taste and astonishing array of health benefits, The Original Tulsi Tea is, quite simply… perfect. Tulsi is becoming well-known worldwide for its healing, immune supporting and stress relieving properties as well as being a rich source of anti-oxidants. Excellent for your health and absolutely delicious! Caffeine free herbal tea!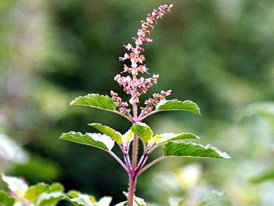 Sanskrit Name: Tulasi
English Name: Holy Basil
Botanical Name: Ocimum sanctum
Part Used: Herb
Ayurvedic Energetics: V+ P- K
Next to the Lotus, Tulasi is perhaps the most sacred plant of India. Its quality is pure Sattva. Tulsi opens the heart and mind, bestowing the energy of love and devotion (bhakti). Sacred to Vishnu and Krishna,it strengthens faith, compassion and clarity.  
The Tulasi plant is a powerful and widely respected herb, not just in India but throughout the world. It is regarded in some ancient Ayurvedic texts as the 'elixir of life' as it helps to heal and purify the body in the most fundamental ways, and by doing so, encourages healthy living from the root of life and promotes longevity and happiness. There are few herbs that are so clearly an expression of the Divine in nature. It is commonly taken as a tea with honey to bring relaxation and receptiveness to the body, mind, and spirit. The fresh leaf juice is used externally for fungal infections on the skin.
Tulsi gives protection by clearing the aura and strengthening the immune system. It contains natural mercury which gives the seed-power of pure awareness. Basil absorbs positive ions, energizes negative ions, and liberates ozone from the sun's rays. Basil is an effective diaphoretic and good tonic for fevers as it encourages sweating which both expels toxins and cools the body.  It removes excess Kapha from the lung and nasal passages, increasing Prana and promoting sensory acuity.  Tulsi is anti-fungal and anti-bacterial. It also removes high Vata from the colon, improves absorption and strengthens the nerve tissue, increasing memory.  
There are many benefits of Tusali leaves for the heart and blood, for which it is a general tonic. Recent studies have found that it lowers glucose levels making it effective against diabetes. Tulsi balances blood cholesterol and supports healthy circulation. Many anti-oxidant qualities support the health of the heart.
The sattvic nature of Tulsi benefits the mind and the senses. This benefit of Tulsi strengthens nerve tissues,  promoting both sensory acuity and increases the memory. It has mild analgesic properties that help to calm the nerves and ease pain. It is an adaptogen, helping the body to adapt to stress by penetrating the subtle layers of the body, opening them up to the flow of prana.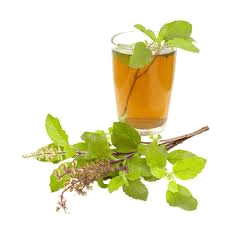 All Organic Ingredients : Rama Tulsi (Ocimum sanctum) Krishna Tulsi (Ocimum sanctum) Vana Tulsi (Ocimum gratissimum) 


About ORGANIC INDIA:
At the heart of ORGANIC INDIA is our commitment to promote holistic sustainable development for all beings through organic agriculture. We are committed to service, sanctity and integrity, and to operating an ethical and sustainable business that harms none and benefits all. ORGANIC INDIA is a global leader in promoting organic products and in supporting sustainable farming, wild crafting and village/tribal agricultural communities in India.
We cultivate, collect, process, manufacture and market Certified Organic Tulsi Teas, Herbal Supplements, Psyllium, Castor Oil, Ayurvedic and Medicinal Herbs, and many other organic foods and organic spices. Our products are of the highest quality and marketed all over the world. We are continually developing and expanding our range of organic foods and health products.
All ORGANIC INDIA facilities and processing centers have been awarded SQF, HACCP, GMP, ISO-9001 and Kosher certifications, and are EU, Skal, ECO-Cert and USDA certified for organic production. We have designed and developed our unique processing methods and advanced dehydration technologies to ensure maximum retention of potency and nutritional values, so that we can remain true to our commitment to offer the highest quality organic products available today.