Description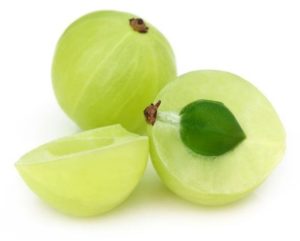 Benefits & Medicinal Uses
Natural Antioxidant & Strengthen Immunity & Enhance Food Absorption
Body Coolant & Balance Hyperacidity
Heart support, Enhances Fertility & Strengthens the Eyes
Flush Out Toxins & Support Skin Health and Appearance
An excellent source of Vitamin C
It is the basis for CHYAWAN PRASH, an herbal Elixir or Jam, that is the main general all-around tonic and restorative in Ayurveda. It is sattvic in quality and gives good fortune, love and longevity – it is itself a long-living tree.
Sanskrit Name: AMALAKI/ AMLA
English Name: Indian Gooseberry
Botanical Name: Emblica officinalis
Ayurvedic Energetics: V-P-K+
Plant Part used: Fruit
Rasayana means miracle elixir. The combination of herbs and the process of blending them together creates a synergy of blessedness, a composite effect of all the ingredients together lending to an almost magical, transformational, healthy burst of sunshine in the body.
The above description exists for the sole purpose of education and Self-Awareness and should in no way, explicitly or implicitly, be taken as an endorsement of this or any of the products offered by our partners herein. Statements contained in product explanations have not been evaluated by either the Food and Drug Administration nor the Ministry of Health, Labor and Welfare. The products herein are not intended to treat, cure, mitigate or prevent any disease. Please consult first   with your primary health-care consultant or doctor before purchasing any health-care product to determine if the product is appropriate for you.