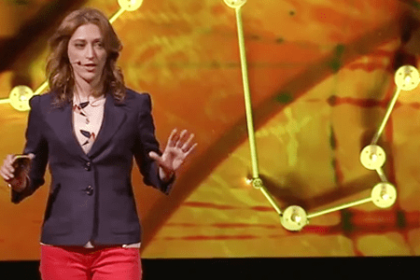 "Health is a dynamic state of complete physical, mental, spiritual and social well-being, and not merely the absence of disease or infirmity."  W.H.O. 1998
The World Health Organization has since amended that definition, removing two words: dynamic and spiritual. Why? I can understand where the word spiritual might meet with socio-political resistance in some quarters, seeing as how it is a word which defies standard definition, but dynamic? That one seems rather cut and dry. Is it not commonly accepted that health is a dynamic state? I guess the physics, as tends to be the case, is not so cut and dried after all.
Sanskrit, literally meaning 'well-formed', is often referred to as a perfect language.
In Sanskrit, the word for 'well-being' is [sva-stha स्वस्थ][i]. It is further defined as self-abiding, being in one's natural state, staying in one's abode and established in the self. In other words, well-being is synonymous with one's natural state. Well-being is precisely where one lives, and the further I stray from my 'self', my 'abode', is the further I stray from well-being.[ii] In fact, NASA scientists, writing in Artificial Intelligence magazine back in 1985, cited Sanskrit as the most viable language to use for computer programming and a host of other applications in the development of artificial intelligence. You can visit our library to read the journal article.
"We tried to talk it over, but the words got in the way." George Benson
Words are immensely powerful. Some traditions hold that they are even entities unto themselves. The bible says that the entire creation began with the Word; the Japanese, in fact, hold that words are spirits which occupy the physical creations they manifest. But this is not a treatise on metaphysics; I only want to draw your attention to the magical properties of words acknowledged the world over. In particular, I would like to introduce you to the concept of controlling the effects of stress on your body and mind through your interpretations. For stress does not need to be the villain it is generally made out to be. Indeed, stress is still a subject of myriad debate, much like the definitions of health or spirituality continue to be. It is not enough to simply equate the phenomenon of mental stress with its well-known physical cousins, the forces of physics – it has become necessary to coin new words in an effort to better understand how these forces, these so-called living elements, are at play at in our lives and bodies. Eustress, first noted by endocrinologist Hans Selye[iii], is the word used when we judge stress to be beneficial. Nowadays, with a new trend towards mindfulness, that which used to be strictly the purview of  "spiritual" communities, is increasingly becoming the focus of the mainstream as we see scientists and doctors advocating more meditative and introspective approaches to total health.
"This is my body helping me rise to this challenge. When you view stress in this way, your body believes you." Kelly McGonigal
Stanford University professor, Kelly McGonigal, author of The Willpower Instinct, discusses how our thoughts, the words we use in our inner conversation, help to shape our physical make-ups. She suggests, quite provocatively, that we are all empowered with the ability to control, to a certain extent, our physical destinies through how we interpret the world around us and our own personal interactions with it. Watch the talk below or go over to the TED site to download the video or transcript and watch at your leisure.
In the world of stress-management and care-giving, it's often acknowledged that one-off stressful events like the loss of a job or a fight with a loved one, are more easily dealt with through new exposure and experiences than the more insidious form of stress caused by chronic trauma. Our day-to-day stresses may become more comfortably managed by a change in perspective, as Dr. McGonigal intimates, or we may become solid masters of our destinies and disposition by achieving a little more dexterity with our words. But for the chronically suffering, who for reasons of severe trauma have lost the ability to observe themselves – what of them? Well, now we are in the arena of the therapist and beyond the purview of this post. But let me leave you with this. If mindfulness, self-control and the observation of my word are enough to affect change within myself, might not the same be said for my immediate circles of influence? How far is my reach? How far and wide does consciousness extend? And when consciousness mingles – then what? Food for thought.