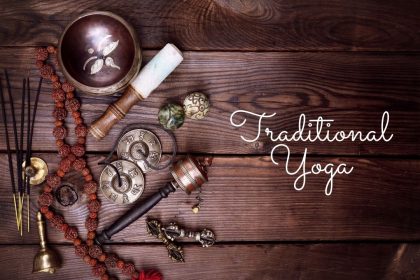 Get Started
This course is currently closed
Traditional Yoga
In the Sanskrit dictionary, yoga is defined as samadhi. This word means, a state in which the fluctuations of the mind have been tethered and brought under control. The mind no longer makes any modifications to the other layers of being, namely the mental, emotional, physical, to put it simply. By bringing the mind to rest in this way, it was assured that there would be no more impressions on one's human vehicle and one would become free from karma, liberated, released from a cycle of suffering that we appear doomed to repeat over and over again. This 'suffering' was known to be caused by a misguided apprehension of things which causes within us, anger, sadness, greed, fear, envy, a policy of judgmental attitudes that lead to these emotions and more, and the development of daily habits that both discouraged real health and vitality and encouraged the rapid degeneration of our physical vehicles. Yoga therefore, was an exercise developed to tame the mind in order achieve a state of both non-judgmental awareness, as well as a non-attachment to the ideas of the mind and the various states of happiness and unhappiness which it prompted in its many modes.
Step 1 | Module 2 'Traditional Yoga' introduces more advanced meditative practices. While you practice, we're also going to begin establishing needful knowledge and insight to carry your forward. What is Yoga? How do the ascetic yogin, like the Buddha, approach a path of Yoga that takes them to the goal, right plum in the middle of the road, neither differentiating this from that, nor judging that from this – total equanimity – at peace – with a mind shining like the most brilliant diamond in the universe.
This module introduces Patanjali's Raja Yoga. Raja means King, as this yoga is considered to be the king of Yogas, and Patanjali presents it to us in a program consisting of 8 limbs – Ashtangha. We'll go deep into the knowledge of yoga and get clear on exactly what this path means before introducing the other major schools of thought in the field of Yoga, namely Bhakti, Karma and Gyana Yoga. You'll develop a good base of knowledge and practices that will allow you to determine which path is right for you, because the 7 steps to Samadhi is neither a school of Yoga, nor is it a school of Buddhism, but a program designed to show you the way to enlightenment, a state of being not found by only one path, but ultimately one that you will have to choose for yourself.